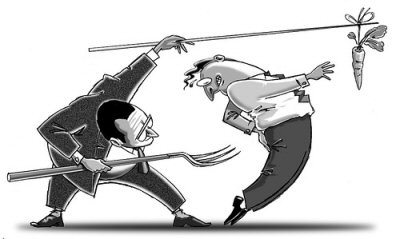 Ever wonder why some people seem to have success so easily while others tend to struggle forever? 
Well sometimes uber results call for drastic measures, and I learned of a bonafide way to push you towards your goals, whatever they may be.  I learned a very valuable lesson in Miami a few months ago, and I wanted to share that lesson with you.
I certainly hope you got value from this, because as it was happening in Miami people were really starting to realize what REAL motivation feels like.  When those two guys wrote checks to each other they got a standing ovation.
Soon after we were hearing other "sticks" were making similar deals with each other. 
I have to admit being a "carrot" is a little bit easier, but you can make it hard on yourself if you wish.  It's just a matter of how badly do you want it?
Thanks so much for visiting my blog today, and if you feel you need assistance in reaching your goals that may seem impossible to you, feel free to get in touch so we can discuss your issues.  Unlike most "gurus" out there, I'm available to you anytime.
Have a great day!
Dan Spiegel
(773) 599-3467
Connect with me on Facebook
Skype: spiegs13
P.S. If you'd like to see the system that I am using to reach my once-thought unobtainable goals, click here to find out more information.